Innate immunity is the process by which white blood cells and other parts of the immune system sense and respond to potential infections by causing an inflammation. Researchers are interested in studying how the body responds to certain environmental factors, and whether the body's response can contribute to chronic illnesses or diseases such as asthma and certain types of cancer.
Who Can Participate?
Enrolling by invitation only.
All participants must be currently enrolled in the Study
At least 18 years of age
Male or non-pregnant female
Willing to fast (with the exception of water) from midnight prior to the study visit
Ability to travel to the Clinical Research Center in North Carolina
Healthy volunteers as defined by the International Red Cross guidelines (Healthy means that an individual feels well and can perform normal activities. If the individual has a chronic condition such as diabetes or high blood pressure, healthy also means that they are being treated and the condition is under control).
What Is Required?
Participate in one 60-minute visit at the National Institute of Environmental Health Sciences (NIEHS) Clinical Research Unit (CRU) in Research Triangle Park, NC.
Visit includes a review of medical history, collection of vital signs, and providing a blood sample.
Compensation for time and effort at the completion of the study visit is $45.
If you are eligible, you may be invited to participate in this study more than once. You will receive the same compensation for your time and effort for each visit completed.
Who Is Running the Study?
The study is run by physicians at the National Institute of Environmental Health Sciences (NIEHS), National Institutes of Health, U.S. Department of Health and Human Services.
Lead Researchers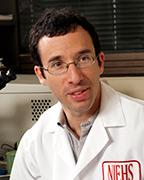 Dr. Michael Fessler received his medical degree at Harvard Medical School in 1996, and followed this with internal medicine residency training at Massachusetts General Hospital and pulmonary/critical care medicine training at University of Colorado. While at University of Colorado as a physician scientist, Dr. Fessler developed expertise in research into the human immune system, focusing in particular on macrophages and neutrophils, white blood cells that protect the body from infection, but that can also cause damaging inflammation in the lungs and other organs. In 2006, Dr. Fessler moved to NIEHS to start his own laboratory, which conducts a wide range of basic (cell-based) and clinical (epidemiology, patient-based) studies that aim to identify mechanisms by which the immune system gets activated, and how we may intervene in its activation to treat or prevent lung diseases such as pneumonia, acute lung injury, and asthma.  As Acting Chief of the Immunity, Inflammation and Disease Laboratory at the NIEHS, he now oversees a department of research laboratories focused on the study of immune-mediated diseases.  In his own work, Dr. Fessler has identified variations in the DNA code that put patients at heightened risk of damaging inflammation, has identified a role for household dust bacteria in driving inflammation in healthy people, has discovered new ways by which high cholesterol causes inflammation, and has also identified new potential drugs for treating immune system overactivation.  His ongoing studies on immune cells collected at the NIEHS Clinical Research Unit, made possible by the generous participation of volunteer blood donors, ultimately aspire to advance our understanding and treatment of inflammatory diseases in humans.
Research Webpage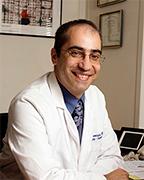 Stavros Garantziotis, M.D. is passionate about finding cures for chronic lung disease like asthma, COPD and pulmonary fibrosis. He believes that if we can understand the mechanism of disease development for every individual patient, we can design intelligent and effective treatment with less side effects. Dr. Garantziotis obtained his medical degree at the Albert-Ludwigs-University in Germany. He trained in Internal Medicine at the Albert Einstein College of Medicine in New York and in Pulmonary and Critical Care Medicine at Duke University Medical Center, where he was a faculty member before joining the NIEHS to direct the Clinical Research Unit.
Research Webpage
For More Information About This Study
Protocol Number: 10-E-0129
This content is available to use on your website.
Please visit NIEHS Syndication to get started.